THE

AI-POWERED EXECUTIVE YOU'RE MISSING IN THE C-SUITE
Chief Returns Officer® is the first and only AI-powered SaaS platform that uses predictive and prescriptive analytics to reduce returns and improve the financial performance of retailers.
WHY REDUCE RETURNS NOW?
High return rates have become the retail industry's most expensive problem.
Retailers have seen their bottom lines erode as skyrocketing return rates have impacted all facets of the business: From operational, to supply chain and inventory, to customer experience.

of all online apparel sales are returned.

Revenue leakage from returns can be 30%+ in some segments.

On average, every return is handled by more than 7 people.

of first time customers that experience a return will NOT revisit that retailer to shop.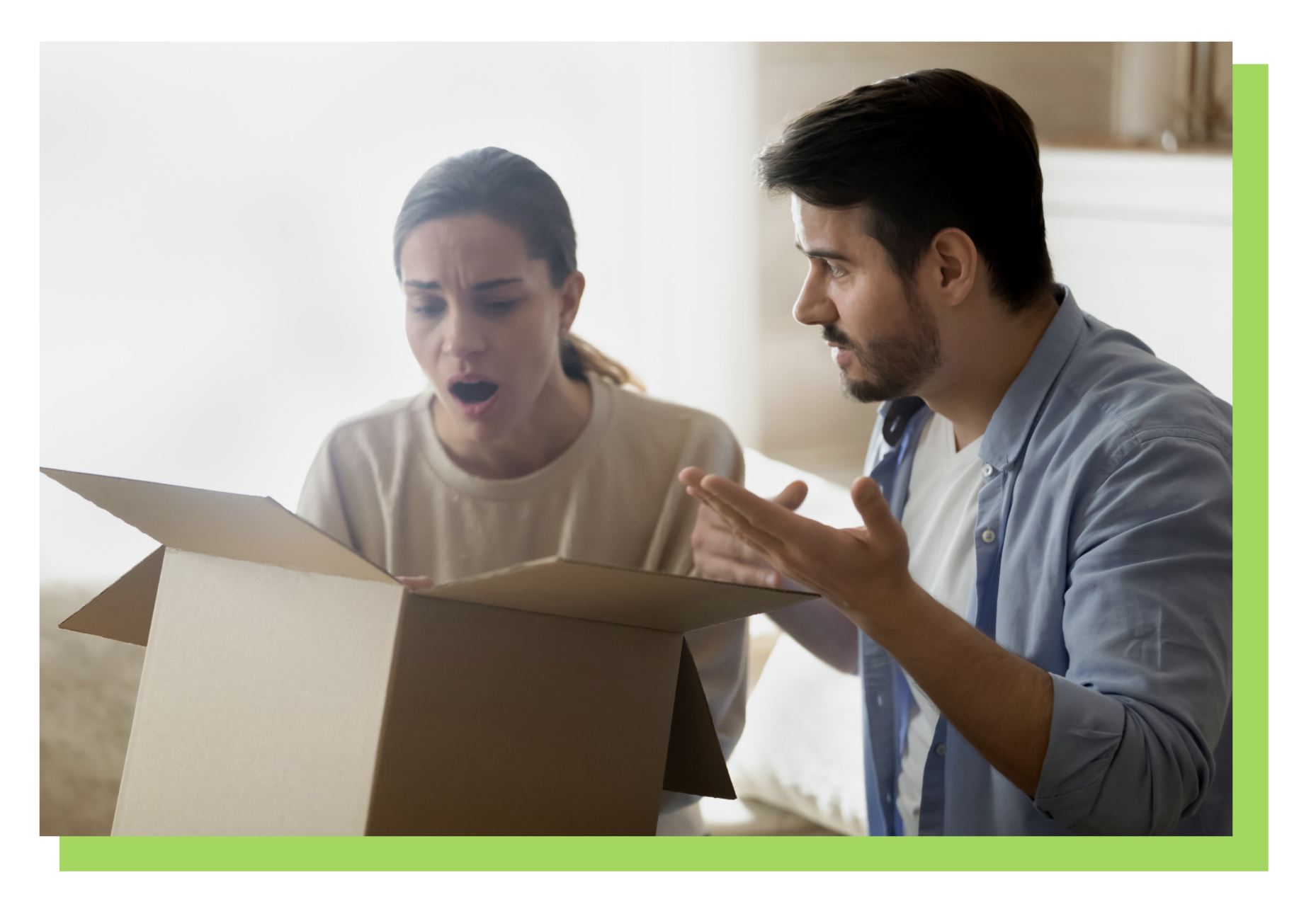 Why manage returns, when you can reduce them?
The acceleration of e-commerce growth has caused an escalation in returns. But even with the best returns experience imaginable, retailers are leaving money on the table and diminishing brand value every day they go by without reducing returns.
Want to know how much returns reduction can save you?
Returns reduction has never been easier with Chief Returns Officer.
The engine that powers returns reduction is Chief Returns Officer®, an AI-driven platform that integrates millions of enterprise-wide data points, distills this data into meaningful actions, and coordinates all activities with your business team.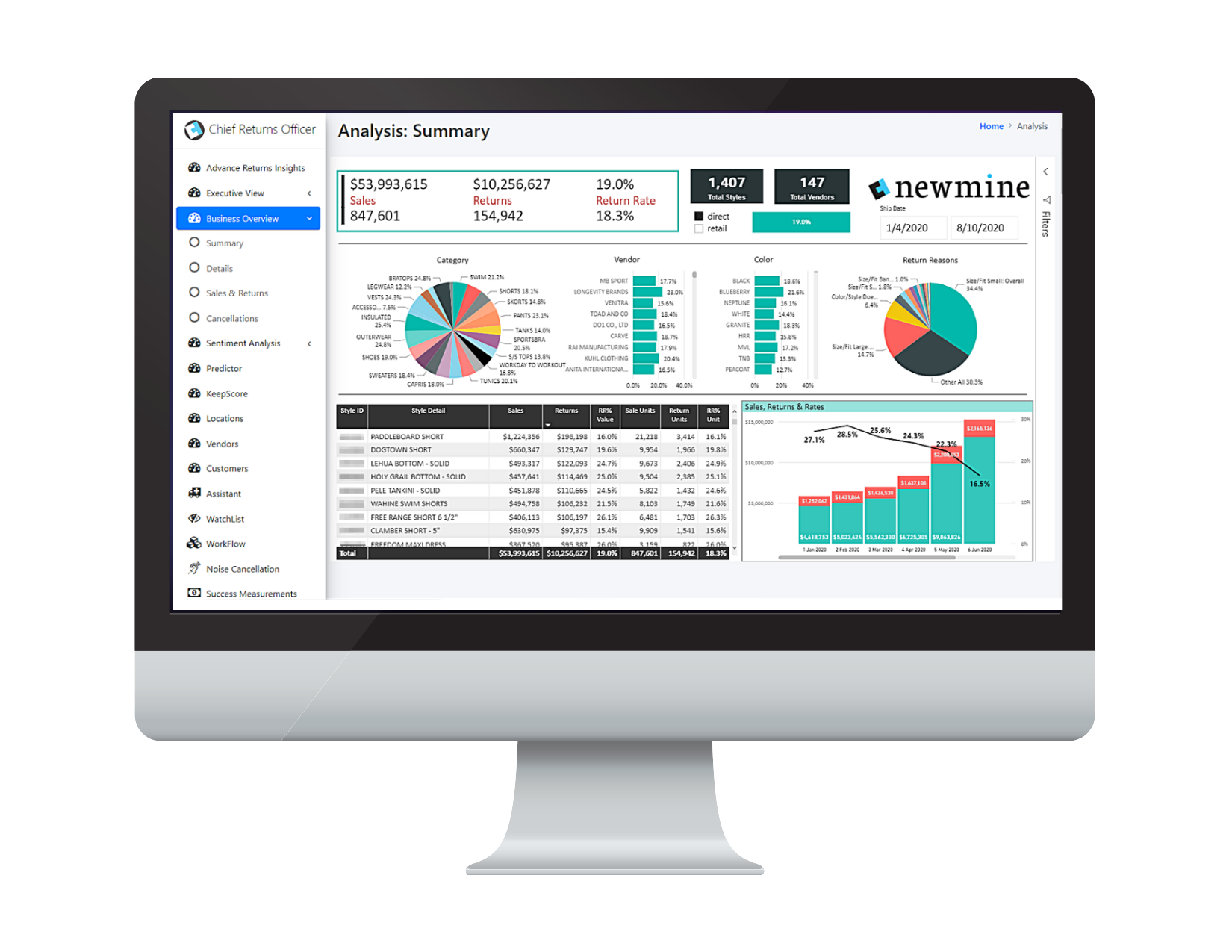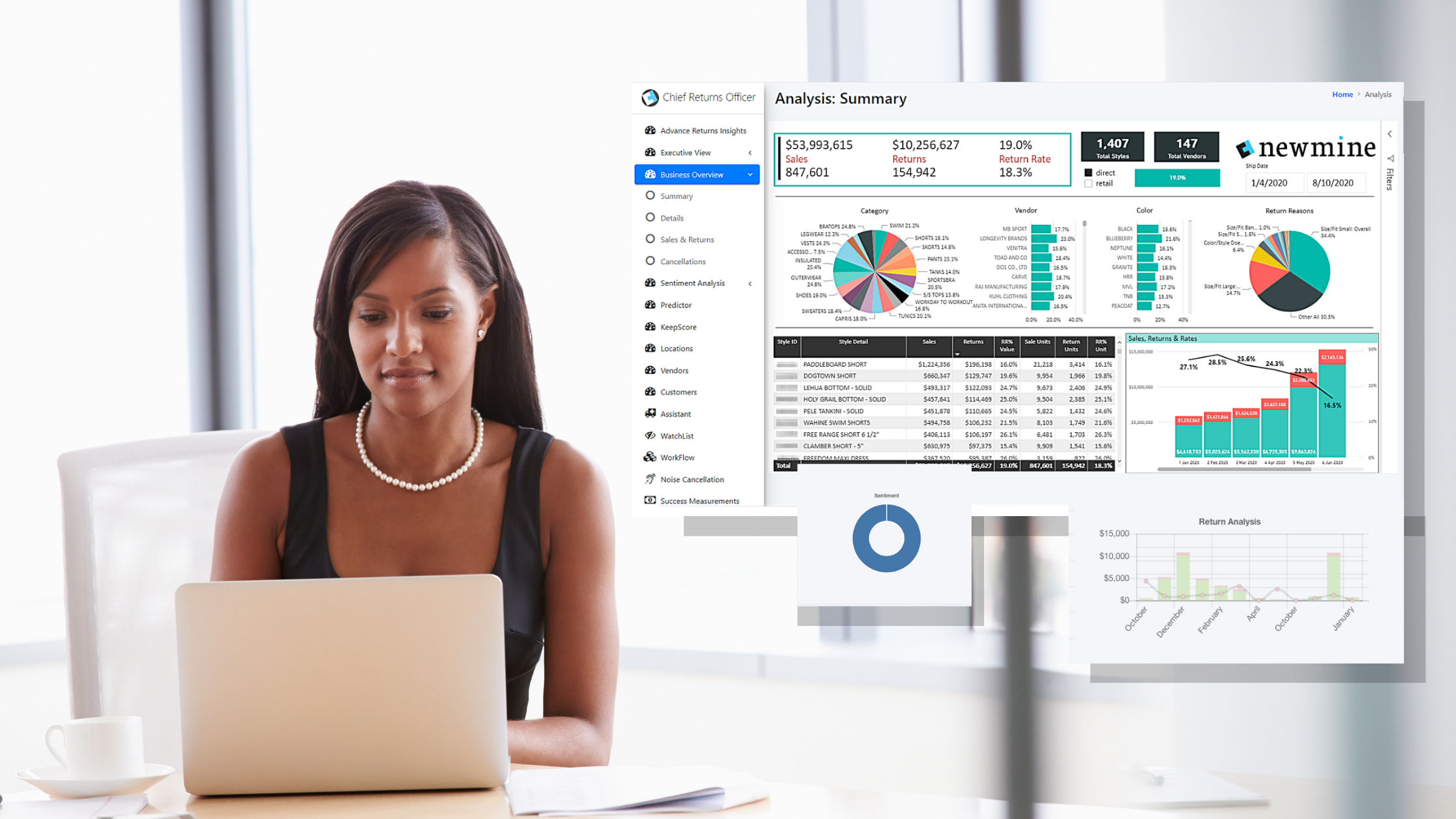 Returns diagnostics, delivered to your inbox.
Imagine receiving an alert in your inbox, with the solution to a problem before you even know you have one? It's that simple.

Chief Returns Officer monitors returns anomalies and prescribes corrective actions to the appropriate person on your team.
HOW CHIEF RETURNS OFFICER WORKS
Retailers have the data, Chief Returns Officer puts it to work.
Let's face it: Reducing returns by brute force is not going to cut it post-2020. With key data scattered across multiple platforms and departments, you need a centralized platform for identifying, analyzing, predicting, and ultimately reducing returns. To achieve returns reduction, Chief Returns Officer...

IDENTIFIES THE ROOT CAUSE
Continuously analyzes product, transactional, and customer feedback to detect returns anomalies and their root causes.

PROVIDES IN-SEASON INTELLIGENCE
Uncovers return reasons in near real-time to empower retailers make better business decisions.

PRESCRIBES CORRECTIVE ACTION

AI-driven technology triggers alerts and prescribes actions to the appropriate team member.

ENABLES COLLABORATION

Empowers enterprise-wide teams to collaborate seamlessly with a silo-busting, cross-functional workflow.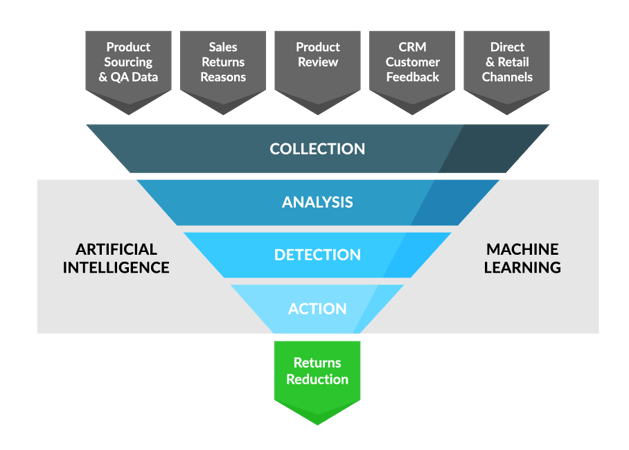 EBOOK
Returns Reduction: Your Guide to Taking Action
Your starting point for building a Returns Reduction focused strategy in your retail business.
DOWNLOAD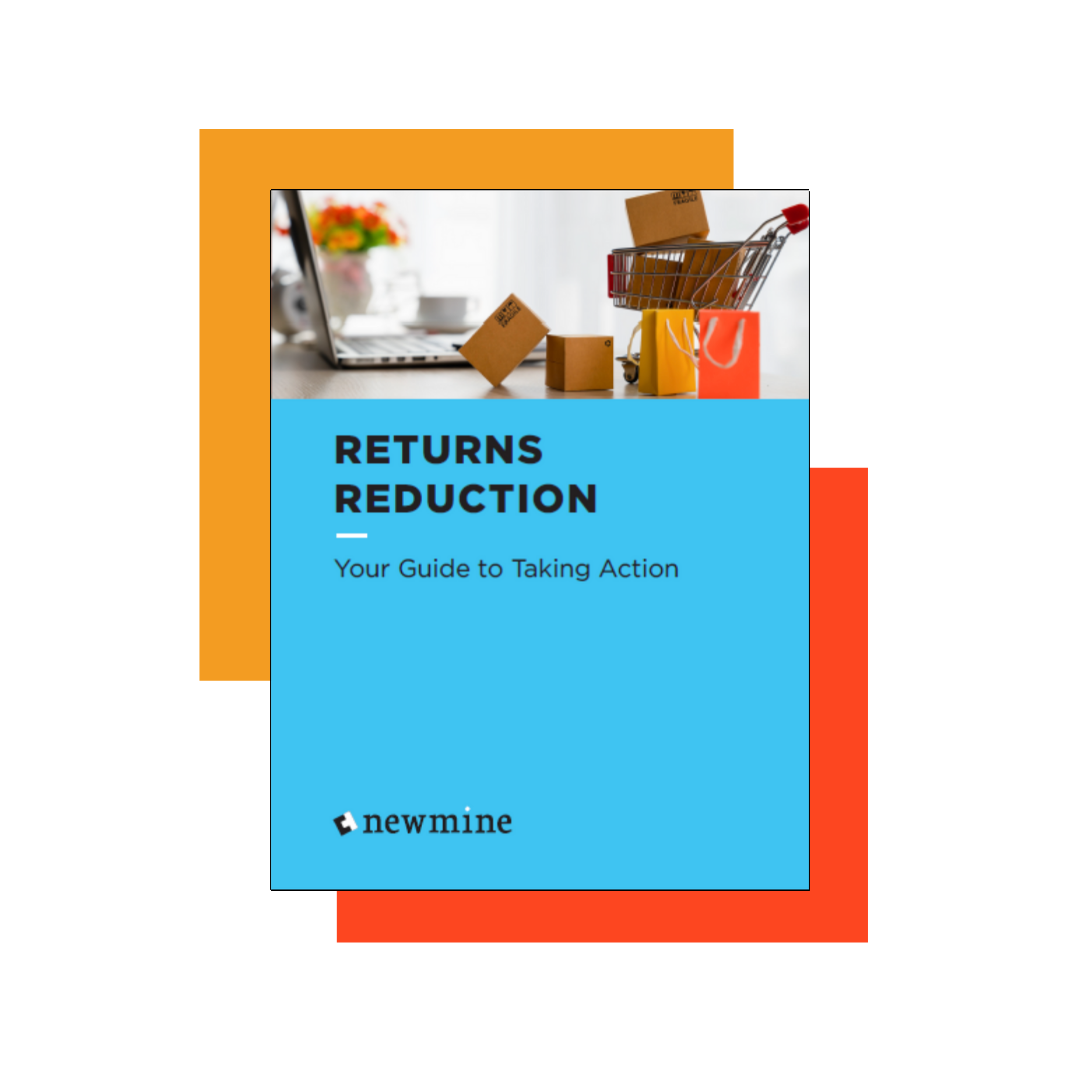 WEBINAR WITH CORESIGHT RESEARCH
Solving Retail's Most Expensive Problem: Digging Yourself Out From Under The Returns Avalanche
Retailers are facing an unprecedented returns season, fueled by the historic rates of e-commerce holiday sales in 2020.
Host
Deborah Weinswig, Coresight Research
Panelists
Navjit Bhasin, Founder and CEO of Newmine
Mike Relich, Interim CEO of PSEB (PacSun Eddie Bauer)
VIEW NOW
It's time to shift focus away from what customers buy, to what they keep.
Consider this: The majority of customers don't buy products in anticipation of returning them. Chief Returns Officer's KeepScore index classifies products, suppliers, and customers based on the likelihood of the purchase turning into a return.
It's time to focus on designing, procuring, and delivering products that your customers will both purchase and keep. Click below to discover retail's most powerful new metric.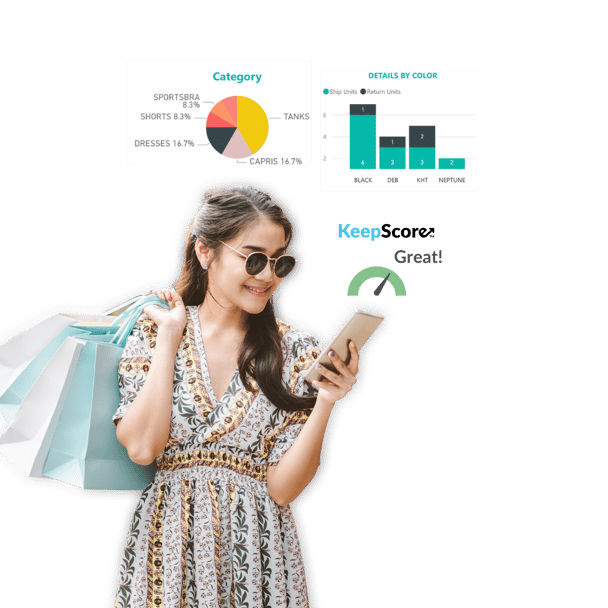 Keep your customers returning, not your merchandise.
Ensuring Retailers Thrive in a Transforming World.